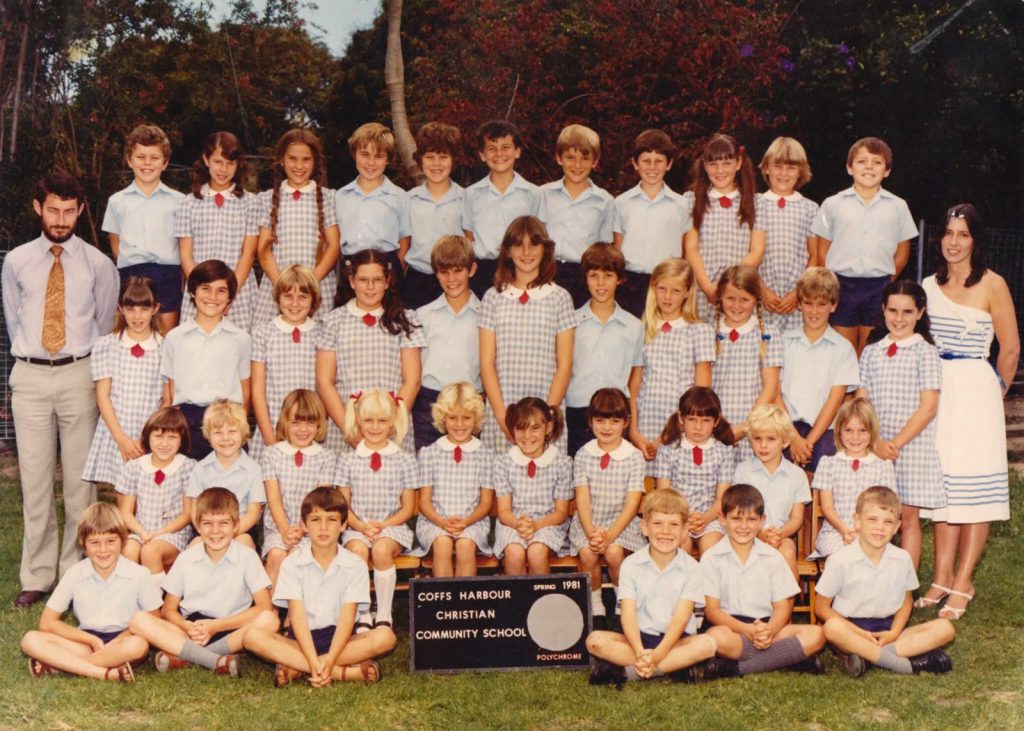 At the start of 1980, Alan and Lyn Smith, in conjunction with the Coffs Harbour Baptist Church began investigation into the viability of a Christian Community School in the Coffs Harbour region. Mid 1980, a public community meeting was called to ascertain community interest in starting a Christian Community School. As a result of that public meeting, Coffs Harbour Christian Community School commenced operation at the start of 1981. The school started with 29 students and ran classes from Kindergarten to Year 6.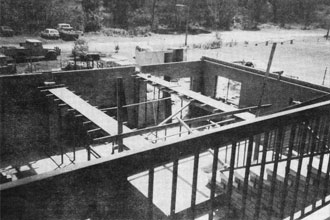 In 1985 building commenced on the current Junior School grounds of the Office, classrooms and a Food Tech room. At the beginning of 1986 the school year started with students and staff moving into these new buildings.
The administration staff were previously operating out of the Baptist Church admin Office.
By this time the school was providing education for Years K-10
Phil Jones, David Hamilton and a number of year 9, 10, 11 and 12 students travelled to Nambucca Heads High School for the school's first ever outreach into a state high school. It proved very successful and paved the way for what was to become an annual event for our school
Children transitioning to secondary Schooling find the experience traumatic and socially unsettling. They go from the main care of one teacher in Primary school to many different teachers at the Senior school.
Middle schooling, where students can relate effectively and pastorally to one particular adult as their homeroom teacher, was introduced.
It has proved to be a real boon to the development of the students and it is a special feature of our school.
This year saw the first overseas mission trip to Bali. Maureen and Dave Hamilton as well as Peter Sales and 18 students travelled to Bali and did a series of outreach concerts as well as visiting an orphanage at Blimbing Sari.
This has led to the school's yearly mission trips to Bali and has paved the way for student and teacher exchange program that we now have in place.
Ian Richardson won the Innovative Teacher of the Year prize from Caltex Australia and the Sydney Rotary Club for his efforts in establishing our Equestrian Program.
The program has since expanded to a fully equipped riding arena with many students enjoying horse riding activities of fun and learning.
We had a growing number of students leaving year 12 wanting to come back into the school and be involved in the schools missions program, a ministry training centre was seen as a way to fill that need and so it was established in 2004 as the Ministry Training Centre, and later on to be known as North Coast Ministry Training Centre.
The initial cohort of 8 students did a series of non-certificate courses and travelled to Bali as well as helping with the High School mission trip to New Zealand. The following year saw the introduction of Certificate 4 and Diploma level accredited courses.
The School established a Learn to Fly program based at Coffs Harbour Airport. A Foxbat A22 Light Sport Aircraft was purchased and it is hangared in the school's hangar at the Airport. Training services are provided by Midcoast Microlights under the supervision of Mr. Mark White Chief Flying Instructor.
As the Ministry Training Centre developed and our school mission trips continued we became more involved in the ministries of Bali Protestant Church. This led to our involvement being formalized in a sister school relationship with Harapan School and the setting up of the Membantu development fund to assist with the Orphanage. Both Harapan and the Orphanage are ministries of the Bali Protestant Church.